How did this all happen? My best friend Jen, and I [Chelle] had this idea... Let's create a book club so that we can talk to other book addicts and paranormal junkies! Once that was decided, I created this website to have a 'home' for LITERAL ADDICTION, our Paranormal Book Club, to give members a place to check in and see what's up in-between discussion gatherings. I simply wanted to share our passion of reading and all things Paranormal with like-minded individuals, meet some new people, and make some new friends.
The name LITERAL ADDICTION was meant to be both literal (no pun intended), and figurative. The word "Literal" is defined as: Of or pertaining to the letters of the alphabet; expressed by letters, and the word "Addiction" is defined as: The state of being enslaved to a habit, practice or to something that is psychologically or physically habit-forming. Therefore, the conjunction of the two appropriately described the founding members' passion for books, and it stuck.
We LOVE series and tend to gravitate toward them, though we're not 100% sure if that's because there are so many great ones out there to choose from, or because it fits the members' personalities so well!? It's Yin and Yang...Vampires and Blood, Shifers and a Full Moon, Faeries and Glamour, Witches and Magick...you get the idea! ;-)
Well, all of that was in February of 2010, and LITERAL ADDICTION is SO much more than just a book club now! :-)
I think we definitely accomplished our goal of sharing our passion with like-minded individuals. With a fanbase of over 3,900 people now, and well over 650 Author Events under our belts, we have met some amazing folks and have made some incredible friends!
While we're not able to do the formal 'book club' thing any longer because of our amazing growth, we do share tons of book recommendations and discussions over on our Facebook pages (specifically the private Group page), & with the help of my fabulous Guest and Associate Reviewers (who you can learn more about our our Who's Who page), I review loads of books and provide feedback that way for anyone who's interested as well.
LITERAL ADDICTION promotes for authors both new and established, thus allowing readers to learn more about their favorites, and find some new amazing talent, and we're always running fun and creative contests for different things book and/or paranormal related too.
AUTHOR SERVICES & more:
In addition to all of that, I offer freelance BETA Reading, Proof Reading and Copy Editing services, as well as Book/Series Bible research & creation as LITERALLY ADDICTED TO DETAIL (I do Book/Series Bible creation as a Contractor for Book Monster Promotions too).
Outside of the Editing and Bible work, I also offer some author assistant services to help with promotion - creating, recruiting for and beginning the running of your Street Teams, additional online promotion efforts to drive traffic for new releases, etc. Feel free to drop by the Literally Addicted to Detail Services page and/or email me for additional information, references and more information on my competitive rates!
I have also offered custom Bookish Fangear and Bookthong design and order/sale as 'Chelly Belle Designs' in the past for readers who are fangirls like me. :) You can take a peek at some of my past author fangear work on our Fangear pages (the sub-pages on the Literally Addicted to Detail Services page), or my bookthong pics over on my Facebook Fanpage. I still take custom orders if I'm able to fill them...
If you are a reader who is interested in becoming a part of our wonderful literary family, and/or an author wanting to join forces, please contact me via Email, Facebook, or Twitter.
As always... HAPPY READING!
~Chelle, LITERAL ADDICTION's Proud Pack Alpha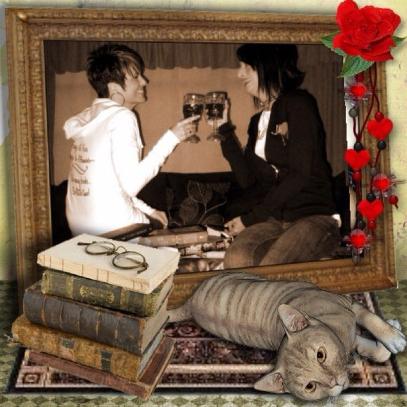 LITERAL ADDICTION's Mission is to bring fellow paranormal junkies and book addicts together to read, discuss, and review great books by wonderful authors, as well as introduce readers to new authors and help the authors promote their work. Bottom Line--I just want to share some of the contentment and joy that I have found in reading and talking about these things, and give our followers the opportunity to meet some new people with common interests, hopefully leading to some new and meaningful friendships while also helping our rockstars (the authors) further achieve their goals!
In addition to that straight forward Mission, LITERAL ADDICTION has a cute motto, mantra and quote I'd like to share...
LITERAL ADDICTION'S Motto: "Beyond the natural & the normal lie the Supernatural & Paranormal... Anything less, just isn't enough!" ~Michelle L. Olson
Mantra: "Fangs & Fur, Magic & Glamour---So many books... so little time!" ~Michelle L. Olson
Quote: "No matter what I'm supposed to be doing, I'd RATHER be reading!" ~Michelle L. Olson
So, the bottom line is that LITERAL ADDICTION is where book addicts and paranormal junkies unite, and we are VERY proud of that! :)