WARNING!
LITERAL ADDICTION is an Adult Only Organization (18 years of age+), and most interviews featured on our site contain material that is not suitable for minors. While we do occasionally sponsor and promote Young Adult literature, we maintain that we are an Adult organization, and as such, are not responsible for any influences that may arise as a result of anyone under the age of 18 ignoring our warnings and consuming other subsections of our website and the material therein....

LITERAL ADDICTION's AUTHOR'S CORNER

QUICK LINKS to the Archives of our last few Web Events with open contests:


Not what you were looking for?


Direct links to each of our Events' Tumblr Archives can be found under Past Author Events 2011 and Past Author Events 2012 on the Home Page.


Each listing is a direct permalink to the archived post on our Tumblr blog. While nowhere near as pretty as our original posts here on the site, the content is there.


You can also access the auto-updated 'bare-bones' RSS Feed for the Tumblr Archives by going to our Archived Events page, or by clicking on the ARCHIVE button below.

~This is Rheid. Rheid is LITERAL ADDICTION's official mascot and proof that LITERAL ADDICTION is where book addicts and paranormal junkies unite!

PREVIOUSLY FEATURED AUTHOR EVENT

5/19/13

Spotlight, Review & Giveaway

for..

BARB HENDEE
Hello my Literal Addicts!
We are very happy to be promoting for the fabulous Barb Hendee again today to help get the word out about her new series, THE MIST TORN WITCHES. Book #1 of the series was just released on 5/7/13 and is already receiving rave reviews, including ours!
Like most writers, Barb worked at many jobs in her life, including teaching pre-school until she completed her master's degree in Composition Theory. Between 1993 and 2006, she taught college English while writing fiction on the side, some independently and some with her husband and life-long partner J.C.
Over the years, they've lived in Washington State, Idaho, Colorado, and now moved just south of Portland, Oregon. She loves the Northwest, and says it's a great place to write.
They have a lovely and talented daughter, Jaclyn, who lives in Houston, Texas along with their wonderful and talented son-in-law, Paul.
The duo sold "Dhampir", book #1 of their NOBLE DEAD SAGA in 2001, which changed their lives considerably. It was published in January 2003, and they've published a book in the Noble Dead Saga every year since. In May of 2006, they were both able to quit their teaching jobs and move into full time writing.
In 2008, Barb sold the idea for her VAMPIRE MEMORIES series to their editor, Susan Allison, at Roc Books. She's very grateful that their books have found an audience because they love to write fiction more than anything else in the world… and Barb says she's not really good at anything else. :)
Now, Barb is bringing us the new MIST TORN WITCHES series, which takes place in the Noble Dead world, but with new and amazing characters like she gave us in her VAMPIRE MEMORIES series.
For those of you not yet familiar with Barb's work, once again we HIGHLY suggest that you check out her entire backlist, but for today, we're going to tell you all about The Mist Torn Witches…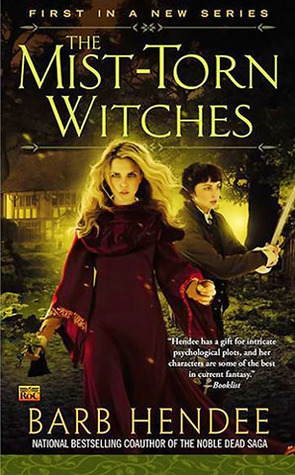 The Mist Torn Witches
Book #1 of THE MIST TORN WITCHES series
Add to your GoodReads Shelf
Buy from: Amazon | B&N | Kobo | BAM | iBookStore | Penguin
National bestselling author Barb Hendee presents a dark, fascinating new series set in the world of the Noble Dead Saga... the story of two sisters who will discover they have far more power than they ever envisioned...
In a small village in the nation of Droevinka, orphaned sisters Céline and Amelie Fawe scrape out a living selling herbal medicines in their apothecary shop. Céline earns additional money by posing as a seer and pretending to read people's futures.
But they exist in a land of great noble houses, all vying for power, and when the sisters refuse the orders of a warlord prince, they must flee and are forced to depend on the warlord prince's brother, Anton, for a temporary haven.
A series of bizarre deaths of pretty young girls are plaguing the village surrounding Prince Anton's castle. He offers Céline and Amelie permanent protection if they can use their "skills" to find the killer.
With little choice, the sisters enter a world unknown to them — of fine gowns and banquets and advances from powerful men. Their survival depends on catching a murderer who appears to walk through walls and vanish without a trace — and the danger around them seems to grow with each passing night.
Our Review, by LITERAL ADDICTION's Pack Alpha - Michelle L. Olson:
*ARC provided by the Author in exchange for an honest review
Let me just start out by saying that the writing of Barb Hendee never fails to amaze me...
Mist Torn Witches combines the same type of incredibly vivid characters and heart that I've come to know and love from Barb's Vampire Memories series, with the superb fantastical world, danger & action that I seek out & devour in Barb & JC's Noble Dead Saga. The combination in this series debut was an utterly compelling & captivating new Fantasy with characters I can't wait to follow for a good long time, & an intriguing & mysterious world I will happily get lost in again & again!
Our leading ladies, Celine and Amelie, are exactly what I love in my heroines - they're independent, strong, perfectly flawed, and despite the fantasy, undeniably 'real' and relatable. Following their journey as they each followed their head and/or their heart, as they made mistakes and learned from them, as they loved and lost and grew as people was wonderful. You couldn't help but feel what they felt and root for them at each turn.
The story was steadily engaging with the perfect arc and never a lag. It had just the right amount of twists and turns, a wonderful number of surprises, and plenty of action. And while it is a fantasy series, there was no cliffhanger. It wrapped up nicely, but left a world of possibilities for the next books; exactly what a good serial debut should do!
LITERAL ADDICTION gives The Mist Torn Witches 5 Skulls. I am so happy to have another Hendee obsession to follow. :)
We certainly hope that we've got a bunch of you adding this amazing book to your TBR lists and ordering it from your favorite booksellers! We also hope that we've got you all checking out the rest of Barb's amazing work as well.
You can keep up with Barb online at her Website, on Facebook, on Twitter, at her Amazon Author Page, and on GoodReads!
CONTEST:
In celebration of the release of The Mist Torn Witches, we are giving away a copy of the book with a clear, signed bookplate from Barb.
To enter, find the Rafflecopter widget for today's Event over on our Author's Corner page 5/19 - 5/24, follow the directions, take action, and mark as 'Done'.
Good luck, and as always… Happy Reading!
AUTHOR EVENT CONTESTS!!!!!

Use the Rafflecopter widgets displayed to enter for the current and previous Event contests (Archived posts can be found by using the links above).
CURRENT Author Event

Kelley Grealis_5.20.13

Previous Author Event

Barb Hendee_5.19.13

*Archived Event can be found HERE

Completed Events with Grand Prize Entries still open...
GETTING SOCIAL!
Like what you've seen and/or read here today? Share it! Help us grow our literary family, and spread the word about us, the authors you love, & the things you enjoy...

The networking buttons below will allow you to quickly & easily share this page via Twitter, Facebook, and Google +1. :)

As suggested by several of LITERAL ADDICTION's amazing members...
The PayPal Donate button!
If you are a member/follower and would like to help LITERAL ADDICTION's Administrator with the costs of maintaining the site & chatroom, shipping costs for Contest winners, etc, this is a way to do it.
Absolutely NO PRESSURE, but if contributions should be made, we thank you in advance, and PROMISE to use any and all donations to keep the fun coming & maybe even introduce some new surprises! :-)
Custom Search