Did you ever want to sit down and talk to/with your favorite characters? We actually do quite a bit! :) Make sure you drop by here when we say we have a "Character Interview", because our adventures out to meet and chat with some of those characters have been something you don't want to miss... You can also read author provided character profiles here on Character's Corner: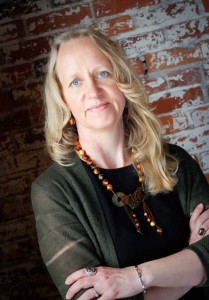 Hello everyone! LITERAL ADDICTION is very pleased to welcome Kerry Schafer back to our site today, along with some special guests!
Kerry Schafer lives in Colville, Washington, with her family, which includes two cats, a rescue fish, and a preternaturally large black dog. A self-styled perpetual student, she earned an RN from Royal Alexandra Hospital in Edmonton, Alberta; a BA in English (Honours) from York University in Toronto, Ontario; and an M.Ed. in counseling psychology from Washington State University.
Kerry is the proud creator of THE BETWEEN series, which was launched on 1/29/13 with Between. Book #2, Wakeworld, was just released on 1/28/14.
You can connect with Kerry online at her Website, on Facebook, on Twitter, and on GoodReads!
We're here today to help Kerry promote and celebrate the release of the new book, but for those who aren't familiar with Kerry and her work, here are the synopses, buy links, and our reviews to catch you up…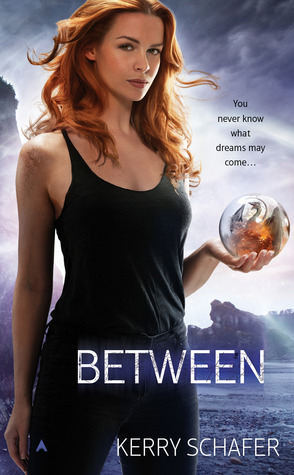 Between
THE BETWEEN Book #1
Add to your GoodReads Shelf
*Read LITERAL ADDICTION's 4 Skull Review HERE
Vivian Maylor can't sleep. Maybe it's because she just broke up with her boyfriend and moved to a new town, or it could be the stress of her new job at the hospital. But perhaps it's because her dreams have started to bleed through into her waking hours.
All of her life Vivian has rejected her mother's insane ramblings about Dreamworlds for concrete science and fact, until an emergency room patient ranting about dragons spontaneously combusts before her eyes—forcing Viv to consider the idea that her visions of mythical beasts might be real.
And when a chance encounter leads her to a man she knows only from her dreams, Vivian finds herself falling into a world that seems strange and familiar all at once—a world where the line between dream and reality is hard to determine, and hard to control…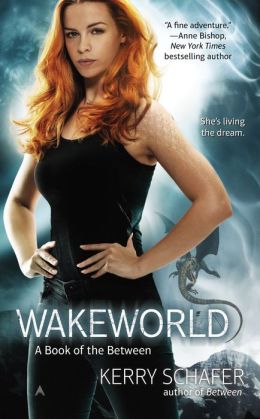 Wakeworld
THE BETWEEN Book #2
Add to your GoodReads Shelf
Vivian Maylor is trying to hold it together. But her attempts to build a life with the man she loves seem doomed by the dragon inside her yearning to break free. Vivian is a dreamshifter, the last line of defense between reality and the dreamworld, and the only one of her kind.
Weston Jennings also believes he is the only one of his kind. He fears his powers as a dreamshifter, and resists learning to control them. After suffering a tragic loss, Weston heads deep into the woods of the Pacific Northwest to embrace a safe life of solitude. But when a terrible mistake leads to an innocent's death, his guilt drives him to his former home, where he encounters what he never thought he would find: another shifter.
Now Vivian and Weston must work together to defeat a new threat to the dreamworld.
Our Review, by LITERAL ADDICTION's Pack Alpha - Chelle
*ARC provided by the author in exchange for an honest review
I said in my review of Between, book #1 of the series, that this was an Urban Fantasy unlike anything I had experienced before, and one that I wanted to get lost in again. When I got word that Wakeworld was available, I was excited to dive in.
Wakeworld picks up right where Between left off, but I think if you were coming into this book as a first time reader you could catch on easily enough...
Kerry broadened the scope of The Between series by introducing yet another dimension, some supe groups we hadn't encountered yet, and a really nasty new antagonist. She also brought in another hero, and his story allowed Vivian's story to evolve some more as well.
Between felt very much like your favorite childhood fairytales turned on their head. Wakeworld felt less like that, but did stick to embracing the higher fantasy elements that I loved from book #1, and even took those to another level with the introduction of the new creatures, the continuing evolution of Vivian's dragon side, and more.
Like the first of the series, the book doesn't start out like a bullet, it ramps up nicely and once it hits the plateau, all bets are off and it's an edge of your seat thrill ride until the end, whereupon you'll be wishing for the next immediately.
The characters and world building of THE BETWEEN are fabulous, and the second book of the series made each stronger. Readers that enjoy their Urban Fantasy with some dragons and high fantasy elements, as well as a slightly ethereal edge will likely find Between and Wakewold enjoyable, especially if you're not looking for instant HEA's for your protagonists. :)
Now that I've sufficiently caught you up and have you all adding more books to your TBR and scoping out your favorite book seller to see how and where you can get Between and Wakeworld, how about we get to the heart of today's Event? I had a chance to sit down to talk with Vivian and Poe, and even got to say hello to Zee! Check it out…
INTERVIEW WITH THE CAST OF THE BETWEEN:
Hello my Literal Addicts, I have a special treat for you today. I had the extreme pleasure of sitting down to talk with Vivian Maylor, one of the world's last Dream Shifters. Take a peek at the transcript of our meeting…
I pulled up to A to Zee books and parallel parked in front of the quaint building. It was a wonderful place to conduct an interview, but part of me hoped Vivian would take me to the Between or Dreamworld just for a bit.
I walked up to the front door and entered, the tiny bell above the door giving a cheerful little jingle. The store was amazing. Books from floor to ceiling giving that warm, comforting ambience only bookstores can give, and intermingled with the luscious scent of old and new tomes, a subtle lavender and vanilla scent from the candle in the corner. Hanging sculptures and wind chimes hung from the ceiling, catching the light as they twisted and turned.
I didn't immediately see anyone, so I walked up to the counter and rang the little bell there. In just a minute, a very pretty redhead came from the back room followed closely by, yes…the largest (and cutest!) penguin I had ever seen. O.K, the ONLY penguin I had ever seen.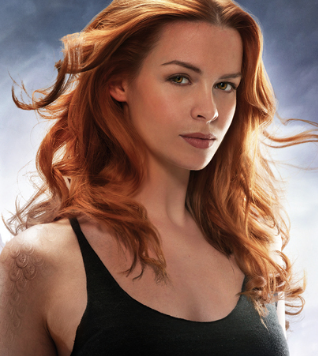 Chelle: Vivian! *walks over to shake hands* I'm Chelle from LITERAL ADDICTION, it is so nice to finally meet you.
Vivian: *shakes hands with a firm grip, but winces a little as though this hurts and puts one hand to her chest* Sorry – war injury. Thanks for stopping by. Can I get you a cup of coffee? Poe, let the lady in.
Poe stood directly in front of me, staring up out of shiny black eyes. He didn't move on request and Vivian picked him up and carried him. We walked back to the little table and chairs set up towards the back of the store. I took a seat while she fetched us each a mug of coffee. Poe planted himself directly in front of me. I couldn't help staring at him – he didn't look like any penguin I'd ever seen.
Chelle: I am so sorry, I don't mean to be staring *turns slightly* Poe, please forgive me, it's just a bit of a shock to see you in person, and you're just so darn cute! *laughs*
Vivian: *Poe's feathers ruffle and Vivian laughs* I'm not sure he likes to be thought of as cute. More fierce and intrepid. He did save my life, you know, more than once. And he's forever walking through doors I'd prefer not to even have opened.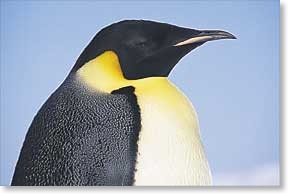 The penguin crawled up a short bookshelf to our right, and took up vigil amidst some crystals and knickknacks. It was obvious why Vivian had named him Poe, there he was ever sitting, never flitting…
Chelle: Forgive me. Again. *laughs* But I'm not sure where to start with the interview. There is just so much I want to ask you! Let's start with the basics. What was it like when you first found out that you were a Dreamshifter?
Vivian: I was totally lost for awhile. Couldn't get my mind around the whole thing. When I was a little kid I think I knew, but I'd talked myself around to believing it was all a dream, and that my mother was totally insane with her ramblings about Wakeworld and Dreamworld. Quite a reality shift for me, and there wasn't time to sit around and think about it.
Chelle: *motions to the pendant of a dreamcatcher and penguin hanging from Vivian's neck* Are the pendants strictly for protection, or do they serve another purpose in the Between or Dreamworld? And why do you think that the totems are what they are – birds? Is there a rhyme or reason why a certain one is attached to a Dreamshifter, for example, did you have a particular affinity for penguins before you knew about your history?
Vivian: Protection? I wish. All the pendant really does is help to anchor me in what we call reality. I know I'm in a Dreamworld when the pendant is missing, not in Wakeworld or the Between. It helps to keep things straight. *Poe scoots down off his shelf and hops up on the couch to sit by Vivian and she rests one hand on his head* I'm not at all sure the pendants always have been birds. I think my grandfather's might have been a cat. But they are always creatures who are connected to the mysteries, who can shift between realities with ease. I did have a stuffed penguin as a child. Poe looks a lot like him.
Chelle: So, you got the double whammy of having sorcerer background as well as Dreamshifter lineage. *glances to the scale markings just peeking out from the neckline of Vivian's t-shirt* I'm a little awed at ALL of your gifts, but being able to shift into a dragon has to be a bit of a rush. Can you tell me a little bit about what it's like when you make the transition, and the differences you note when in alternate form – besides the obvious of course. *laughs*
Vivian: Not so fun at all, really, when you think about it. Zee is a dragon slayer, you know, so it's a bit of an issue between us. Besides that, I find shifting a little frightening – all that raw power – and I'm afraid it will get away from me and I'll eat somebody or something. I did almost roast Weston one time. In dragon form everything is all sharp angles, nothing is soft. The colors are brighter, the smells are – textured. Like the difference between two and three dimensions. But flight – now that is a glorious and wonderful thing.
As Vivian talked about being a dragon, her eyes – already an unnerving clear amber, something like hawk eyes – started to glow, and the scale pattern spread up her neck to her jaw line. It was a little freaky and for a minute I had second thoughts about how smart it was to be up close and personal with a dragon shifter. But then Poe nudged up against her and she took a deep breath and was purely Vivian again.
Chelle: *a little breathless* Were you ever a reader of fantasy? Your time in Surmise had to have been like walking through the pages of one of those books. What was that all like for you over there – being reunited with your mother, finding out that there are alternate versions of ourselves on the other side, etc?
Vivian: I have always read fantasy. I always felt like something was missing, or that some magic was waiting just around a corner, maybe because all along I was meant to be in the Between, or in Dreamworld. So I immersed myself in fantasy books looking for that experience. When it really happened to me, though – that was different. Not like a book at all. Scary, and overwhelming. I was a little frozen for awhile there – couldn't make good decisions or do anything useful. It was all just – too much. You know?
Chelle: I can imagine! Was it a relief to find out that you weren't the last of your kind? And did you ever ask Weston why he didn't name his Raven? I'm thinking "Moore" would have been cute. *laughs*
Vivian: *Vivian laughs* I'll suggest that, next time I see him. Seriously though, Weston had convinced himself he hated the raven. Last thing in the world he wanted to do was name it – he just wanted it to go away. As for being the last of the Dreamshifters – technically I still am. Weston doesn't really want anything to do with the whole thing.
Chelle: You and Zee have a relationship that literally transcends dimensions. You've danced around the finality of it for a while, but do you think that you guys will try to work on things and take what you have to the next level?
Vivian: That's sort of personal. I'm not sure I want to answer.
A man walked out of the back room and stopped to look me over. He was tall, and even through a casual fitting t-shirt I could see serious muscles going on. Long dark hair to his shoulders, half healed scars on one cheek, and these eyes you could get lost in…
Zee: Company?
He was wearing jeans and a t-shirt, but a leather sword belt was slung over his hips and his right hand rested on the hilt. His tone was easy enough but there was an intensity in the way he stood there that made me glad I had an invite.
Vivian: *her eyes lock with his and there's no doubt how they feel about each other* Zee, this is Chelle. I'm pretty sure she's not secretly evil or harboring hidden powers.
Zee's eyes scanned the store – doors, windows, all of the shelves, before he relaxed a little and came to sit beside Vivian on the couch, close, but not quite touching. Poe waddled over for a head scratching. I could pretty much feel the tension buzzing between Vivian and Zee.
Chelle: *clearing her throat* So, Vivian - do you think you'll continue working at the hospital, or are your responsibilities as a Dreamshifter and your upcoming work to protect The Forever too much for you to continue? Though those 'jobs' don't pay the bills do they…
Vivian: I loved my job as an ER doc, and maybe someday I can get back to it. Right now I just don't have time. Plus, I'd always have to be explaining about my eyes and the scales, which is a hassle
Chelle: But what about finances?
Vivian: *shrugs and exchanges a glance with Zee* We've got the bookstore here and my grandfather's cabin. He left me some money, enough to pay the bills. And there's always food to be found in Dreamworld, and even in the Between.
Zee: We're hunter-gatherers of a sort. It works.
Chelle: Gotcha. *glancing at Poe* I have to ask, how do you know what he's thinking? Don't you just wish you could cast a spell and allow him to just talk to you? And how in the world do you explain walking around here with a penguin? *laughs*
Vivian: We do get strange looks if we take him out in public. We don't do that much - I'm worried somebody will try to steal him or something. I'm actually glad he doesn't talk – he'd be lecturing me all the time. Penguin stares of disapproval are bad enough
Chelle: I asked about Weston's raven earlier, but how IS Weston? Have you seen him lately?
Vivian: Weston is Weston. He's a survivor.
Chelle: What's up next for the Maylor crew?
Vivian: *a moment of silence and another look exchanged between her and Zee. His jaw tightens. She clears her throat * We're off in a few minutes, actually, just stopped back here for some supplies. We've got to stop Aidan from destroying all of the Dreamworlds. Somehow I'm going to have to get the Sorcieri to give up some secrets so we can get into the Forever. So if you'll forgive us, we really do need to be going.
Chelle: *with a glint in my eye* Before you go - do you have a Dreamsphere that I can see, and what are the chances you can take me into the Between just for a bit?
Vivian: Unfortunately, no. The ones we had were all lost, one way or another, and besides they're not safe right now. If you were in one of the Dreamsphere dreams and that sphere died – I'm not sure what would happen to you.
Chelle: The Between then? Please?
Zee: It's not safe. The Between isn't Disneyland. There are a lot of things in there that will kill you.
Vivian: And it's very unstable right now. What with the dying Dreamworlds and all, it's even more dangerous than usual.
Chelle: I understand the risks. Still – just for a minute at least?
Vivian and Zee exchanged another long glance. Talk about people who can hold a conversation with their eyes - those two were pros. After a minute, Vivian closed her eyes. She looked like she was meditating or something. And then, just like that, a door materialized in the middle of one of the book shelves. It was just an ordinary looking green door with a brass handle. Ordinary if it hadn't just appeared, anyway.
Poe waddled over to it immediately. If he'd had ears they would have been perked up – he reminded me of a dog who knows he's going out for a walk. Zee loosened the sword in its sheathe.
Vivian: You sure about this, Chelle?
I nodded, swallowing hard. I was both nervous and excited. Vivian stepped forward and opened the door. It was a strange sensation. There I was, standing in a bookstore, and through the door was the oldest, mossiest, most over grown forest I could possibly imagine. Three paths wound away into the distance, none of them straight, all overgrown with vines. Poe hopped through the door immediately and waddled off on the path to the right.
Vivian: *follows Poe* Wait! You don't know what's out there…
Zee: After you. *he gestures toward the door with his left hand and draws the sword with his right *
With Zee right behind me, I stepped through the door. The air felt different, old somehow, and I could smell trees and decaying leaves and something else, a sharp acid scent that was unfamiliar. Vivian and Poe passed out of sight around a bend. Behind me the door was still open.
Zee: Go back now, or go forward. The choice is yours…
As you can tell I got back safely. J So, how about I give away winner's choice of book from THE BETWEEN series to celebrate?
CONTEST:
Again, because I want to give some of my mobile users who can't access Rafflecopter a chance for a bit, share about the new release (Wakeworld), the series as a whole, or Kerry on Facebook, Twitter, Pinterest, etc, etc and comment HERE with the URL to your post and your email address for a chance to win. We'll check the posts and pick a random winner at the end of the Event.
Good luck, and as always… HAPPY READING!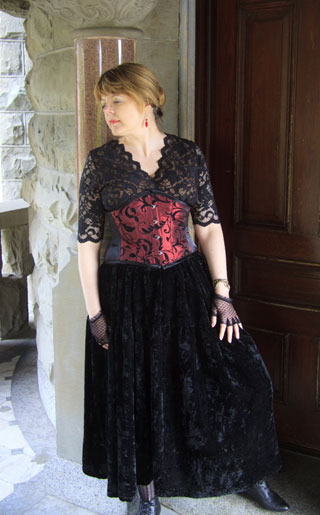 Hello everyone! We are thrilled to be promoting for author Emma Jane Holloway again today!
About the Author
"Ever since childhood, Emma Jane Holloway refused to accept that history was nothing but facts prisoned behind the closed door of time. Why waste a perfectly good playground coloring within the timelines? Accordingly, her novels are filled with whimsical impossibilities and the occasional eye-blinking impertinence—but always in the service of grand adventure.
Struggling between the practical and the artistic—a family tradition, along with ghosts and a belief in the curative powers of shortbread—Emma Jane has a degree in literature and job in finance. She lives in the Pacific Northwest in a house crammed with books, musical instruments, and half-finished sewing projects. In the meantime, she's published articles, essays, short stories, and enough novels to build a fort for her stuffed hedgehog."
You can keep up with Emma online at her Website, on Facebook, on Twitter, and on GoodReads.
Emma is the proud creator of the BASKERVILLE AFFAIR series!
For those of you not yet familiar with Emma's books, here is everything you need to know to get all caught up…
A Study in Silks
BASKERVILLE AFFAIR Book #1
Buy from Amazon | B&N | BAM | Powell's | Book Depository
Evelina Cooper, the niece of the great Sherlock Holmes, is poised to enjoy her first Season in London's high society. But there's a murderer to deal with—not to mention missing automatons, a sorcerer, and a talking mouse.
In a Victorian era ruled by a council of ruthless steam barons, mechanical power is the real monarch, and sorcery the demon enemy of the empire. Nevertheless, the most coveted weapon is magic that can run machines—something Evelina has secretly mastered. But rather than making her fortune, her special talents could mean death or an eternity as a guest of Her Majesty's secret laboratories. What's a polite young lady to do but mind her manners and pray she's never found out?
But then there's that murder. As Sherlock's niece, Evelina should be able to find the answers, but she has a lot to learn. And the first decision she has to make is whether to trust the handsome, clever rake who makes her breath come faster, or the dashing trick rider who would dare anything for her if she would only just ask.
A Study in Darkness
BASKERVILLE AFFAIR Book #2
Add to your GoodReads Shelf
Buy from Amazon | B&N | BAM | Powell's | Book Depository
When a bomb goes off at 221B Baker Street, Evelina Cooper is thrown into her Uncle Sherlock's world of mystery and murder. But just when she thought it was safe to return to the ballroom, old, new, and even dead enemies are clamoring for a place on her dance card.
Before Evelina's even unpacked her gowns for a country house party, an indiscretion puts her in the power of the ruthless Gold King, who recruits her as his spy. He knows her disreputable past and exiles her to the rank alleyways of Whitechapel with orders to unmask his foe.
As danger mounts, Evelina struggles between hiding her illegal magic and succumbing to the darker aspects of her power. One path keeps her secure; the other keeps her alive. For rebellion is brewing, a sorcerer wants her soul, and no one can protect her in the hunting ground of Jack the Ripper.
A Study in Ashes
BASKERVILLE AFFAIR Book #3
JUST RELEASED 12/31/13!
Add to your GoodReads Shelf
Buy from Amazon | B&N | BAM | Powell's | Book Depository
As part of her devil's bargain with the industrial steam barons, Evelina Cooper is finally enrolled in the Ladies' College of London. However, she's attending as the Gold King's pet magician, in handcuffs and forbidden contact with even her closest relation, the detective Sherlock Holmes.
Not even Niccolo, the dashing pirate captain, and his sentient airship can save her. But Evelina's problems are only part of a larger war. The Baskerville Affair is finally coming to light, and the rebels are making their move to wrest power from the barons and restore it to Queen Victoria. Missing heirs and nightmare hounds are the order of the day—or at least that's what Dr. Watson is telling the press.
But their plans are doomed unless Evelina escapes to unite her magic with the rebels' machines—and even then her powers aren't what they used to be. A sorcerer has awakened a dark hunger in Evelina's soul, and only he can keep her from endangering them all. The only problem is…he's dead.
Interests piqued? They should be!! I am thoroughly enjoying this series, and can't wait to find the time to get lost in it some more. Make sure you add them to your TBR lists, but for the rest of today, I have a special treat for you. I had the opportunity to sit down to chat with Evelina Cooper, heroine extraordinaire of THE BASKERVILLE AFFAIR series. Check it out!!
CHARACTER INTERVIEW WITH EVELINA COOPER (and guests):
**Tiny spoiler alert** There are some things in here that could give away the final outcome of some of Emma Jane's free reads. Nothing earth shattering, but if you don't want to know, don't read this!
~*~*~*~*~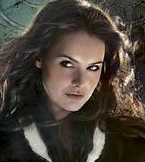 Today's meet and greet is a little bit different. I mean how many times do you think I'd actually have the chance to visit London proper in the time of Steam Baron dictatorship and clockwork craziness? The hardest part for me, sorta, was trying to find something to wear. I mean I know Carla and I did this once before in London proper above the drift with Cherry St. Clair, but somehow, this meant a little more to me. I knew that Evelina Cooper couldn't give a good goddamn what I was wearing, but I did…
After finding just the right gown, not too formal, not too casual, I set out to find 221B Baker Street where Evelina now lived with her uncle Sherlock. Yes THAT Sherlock (you see why I'm excited!!?).
Arriving exactly 5 minutes early, I rang the bell and was greeted by a polite, middle-aged woman who appeared to be the housekeeper. She introduced herself as Mrs. Hudson and led me into the townhouse to a living area that spoke volumes of the man who resided there.
There was a table littered with scientific equipment in one corner, a chaotic desk littered with paper next to the equipment, a fireplace with a large bear skin rug in front of it, a settee and pipe rack on one side of the fireplace, a basket chair on the other side, and a table and chairs facing the street that I entered from. It was all very cozy, in a frenzied sort of way.
I took a seat where I could, and waited for my hostess.
Evelina came strolling in, a train case in one hand and a smile on her face. Her gorgeous dark hair was cascading down her back in beautiful waves, her blue eyes glittered with amusement, and the green day gown she was wearing was the perfect color to compliment her perfect porcelain skin.
Chelle: Hi Evelina, thank you so very much for meeting with me today. My readers will be thrilled to learn some more about you!
Evelina: About me? Good gracious, you mean you aren't here to see my uncle about a case?
Chelle: I suppose I should formally introduce myself huh!? I'm Michelle from LITERAL ADDICTION, though everyone calls me Chelle.
Evelina: Oh, yes, of course! Pardon me, I'm afraid my mind was quite occupied with a trifle I'm constructing in the workshop. I'm delighted to make your acquaintance.
She greeted me warmly and then took a seat across from where I had perched.
Mrs. Hudson arrived right then with a gorgeous tea service and the spicy aroma of the tea was making my mouth water. Evelina and I helped ourselves to a couple of cups and then I settled in for the interview.
Chelle: You had quite the childhood huh!? Can you tell us a little bit about being with Ploughman's Circus? What did you do as a performer? What was it like?
Evelina: Life with the circus is both harder and easier than you might expect. These days, travel is done by railroad—what an improvement!—but performers are expected to do three shows a day and move around constantly during tenting season, which is from April to November. It's a demanding way of living.
My father actually ran away from the circus to join the army. I think he still had a bit of the showman about him, because he was promoted in the field to captain for conspicuous bravery. Later, he convinced my mother to elope with him—he must have been dashing in uniform and talked a very good line. I'm sorry I never got to know him.
Of course, after he was killed, my poor mother was in disgrace and couldn't go home. She'd married beneath her and without permission, and her parents would not take her back. So, we ended up living with my father's family at Ploughman's. Some years later, my mother died of a fever.
After that, my Gran Cooper raised me. She was the fortune teller and sold amulets and love spells. It was a good childhood with a lot of affection, even though Ploughman's is a small circus and money was very tight. I began training to rope walk and do routines on the trapeze, but I had only just started to perform in public when my Grandmamma Holmes arrived unexpectedly. She plucked me from the circus and sent me to the Wollaston Academy for Young Ladies. And there you have my life story to date!
Chelle: When did your interest in Clockwork start? [glances at train case] And did you by any chance bring Mouse and Bird to talk with us a bit? [bounces a bit excitedly]
Evelina: My Grandfather Cooper fixed all the mechanical devices at the circus—the calliope and the clockwork figurines—and showed me what he knew. At the same time, my Gran taught me how to use magic. You see, many circus families, including the Coopers, inherit the ability to work spells and talk to nature spirits, also known as devas. I got the idea of combining the two talents and the rest was … well Mouse and Bird can and do speak for themselves. Relentlessly. [opens train case and peers inside] Hello?
A mechanical bird about four inches long flutters from the train case, followed by a small clockwork mouse. Even though they are made of metal, they move with the grace of living beings.
Evelina: Chelle, may I introduce Mouse and Bird.
[Both creatures preen and bow.]

Mouse: Delighted, fair lady, to meet a member of the press.
Bird: Enchanté.
Mouse: Giddy with pleasure.
Bird: [Hops to the top of the train case and down again, obviously excited.] Do we get our pictures taken?
Mouse: [Putting paws on hips] Of course not, you ambulatory omelet. What good will we be on the job if we've got our faces all over the morning paper? We're spies, remember?

Bird: Then why are we being interviewed?
Mouse: All the best spies have clandestine interviews. One has to whet the public appetite from time to time, dropping bons-bons of gossip about the nation's celebrities. It's the done thing.
Bird: [Fluffs with irritation.] Why? This makes no sense to me.
Mouse: A spy is only as good as his information. A crumb to public curiosity is an earnest of what we might do if truly pushed to wield our power.
Bird: Our power? I think you've been reading too many thrillers. Seriously, what kind of hideous information do you think we have?
Mouse: [sniffs] The incident in the gazebo at midnight.
Bird: What, that Mr. Holmes was using the landlady's geraniums as an ashtray?
Mouse: No, the other thing. [whiskers twitching with irritation]
Bird: The one involving the Society for the Proliferation of Impertinent Events?
Mouse: Not those buffoons.
Bird: The Italian soprano?
Mouse: Heavens, no.
Bird: [gasps] You don't mean . . .
Evelina: [Scoops up the two creatures and stuffing them unceremoniously back in the train case.] I think we've heard enough from those two. They do run on sometimes.
Chelle: But that was just getting interesting! What secret was Bird about to tell?
Evelina: [Slams the lid shut and sets the teapot on top of it. Sounds of frustrated banging emerge from the case. Evelina smiles sweetly.] Do you have other questions for me?
Chelle: So now that you're done with Wollaston and have been presented to the Queen, what are your thoughts on the Season?
Evelina: I expect the Season will be filled with dancing and parties for those who can attend. But that's not for me. There's a bit of fallout from a case that I shared with my uncle—it ended in a rather upsetting fashion. I've been warned to leave London for a while.
Chelle: Your heart was a little torn in two directions - the golden boy Tobias Roth, and the dark and mysterious Nick [no last name]. I know the heart wants what the heart wants, but is it hard for you to know that you probably can't have either?
Evelina: [shakes head sadly] There's no easy answer to that! Tobias is brilliant and you have to admit he's lovely to look at. Plus, we share a love of mechanics. But he's Lord Bancroft's heir. His father would never allow a marriage so far beneath their family name.
And Nick—I thought there might have been a future for us once, but our magic isn't compatible. Every time we get close, the devas go wild. It's like a dozen poltergeists tearing everything apart. And of course, the use of magic is punishable by death or a stint at Her Majesty's Laboratories as a test subject. It's impossible for Nick and I to keep our talents hidden when furniture is flying across the room. People notice that sort of thing.
I will always love both of them, but marrying either one would be a disaster—and I don't want to be with anyone else. I think it's up to me to make a future for myself.
Chelle: O.K, seriously, what's it like to be Sherlock Holmes' niece? [smiles]
Evelina: It's interesting. [laughs ruefully] He doesn't suffer fools gladly, so it can be a bit, um, humbling sometimes. But we don't try to change each other and he's always been there when I really need him. It's a bit like having a willful cat around, but one who leaves a lot of pipe smoke and newspapers behind.
Chelle: What are you going to do about Dr. Symeon Magnus? He seems to have his eye on you, and from what I've seen and heard, he's a little scary! [shudders]
Evelina: Dr. Magnus is a sorcerer versed in death magic. He keeps telling me he wants to continue my magical education from where Gran Cooper left off, but my answer is a very firm No thank you!
Chelle: You are learning a lot from your uncle I'm sure, but you most certainly have your own style of investigating. How do you plan things out, etc when you have a mystery to solve? You did very well with the zombie debacle at the Wollaston Academy.
Evelina: [Cautiously lifts the teapot off the train case and refills their teacups] Uncle Sherlock is always talking about his methods, and I do try to use some of those. However, a young lady doesn't have the freedom of movement that he does, so I created Mouse and Bird to gather information on my behalf. To borrow a modern phrase, you could say that I'm still on a learning curve, but I'm starting to develop some skills.
Chelle: What do you think the future is for London with the Steam Barons controlling each and every little piece and their streetkeepers making it virtually impossible to do anything they don't know about?
Evelina: [sinks back in chair with a sigh] There is a lot of grumbling among the citizens of London, both the rich and poor. You can't make the cost of living impossibly high and take away every alternative people have without protests. If the steam barons keep it up, they're going to have a full-scale rebellion on their hands. I've heard the name Baskerville associated with a resistance movement, so I think it's already begun. They're very mysterious, though. No one has any idea who is behind it.
Chelle: So, yes, let's gossip a bit about your best friend. [giggles] How are you feeling about Imogen and her new beau?
Evelina: I am delighted for Imogen. I don't know Bucky Penner as well as she does—obviously!—but he makes her happy in the way she deserves. The only difficulty is that, while he has money, education, and manners, he's a commoner. Imogen's father would much rather marry her off to someone who is a lord. I see trouble ahead for those two.
Chelle: What's next for you? You've moved in with Sherlock, you're still working on melding your magic and your machines, your dating prospects are slightly out of reach currently – no offense intended – are you still focused on going to University?
Evelina: Yes, absolutely. I've told you a little bit about my family—the magical circus side and the rational, scientific side. I believe getting an education is my best chance to reconcile these two halves of myself. After all what is magic but science we don't yet understand?
Who knows what I might accomplish? The steam barons would love to get their hands on the secret of driving machines with magic, and I've already done that with Mouse and Bird. I wonder how far they'd go to get that secret?
Chelle: I wish you all the best. [glances at clockwork watch] Wow, look at the time! I certainly don't want to take up your whole afternoon. Thank you so very much for sitting down with me today, and letting me get some information to share with my readers about the wonderful Miss Evelina Cooper. If the Baskerville Affair ever comes to pass, I would certainly like to sit down with you again and pick your brilliant brain.
Evelina: Thank you so much, Chelle, for calling on me. Please do come back again!
I said my goodbyes and Evelina led me back to the door herself, waving off Mrs. Hudson who wished to do it for her. She gave me a sweet smile and wishes for safe travels home and I left to find my carriage.
GIVEAWAY TIME
Comment on this post and you'll be entered into a draw for a copy of one book from The Baskerville Affair trilogy – your choice of title and format. Giveaway is international.
Make sure to leave your email address in the comments so we can contact the winner!!
Visit Emma's web page: http://www.emmajaneholloway.com/Look here for free short stories and excerpts from the Baskerville Affair universe!
Good luck, and as always… HAPPY READING!
COMMENTS FOR THE EVENT CAN BE LEFT HERE