As you know, we have our Author's Corner where our authors 'hang out' and ambush our sites with their guest posts or have their interviews displayed. We have our Character's Corner where we post transcripts of our very special (and most times very entertaining!) meet and greets and interviews with some of our favorite characters and/or author provided character profiles. And here we have our Sidekick Corner, where some of our most beloved sidekicks will be dropping by to say 'hi' on occasion - they're the yin to our hero/heroine's yang and they keep us smiling book after book. Now's our chance to see what they really think when given free reign to say anything they want to an audience. Let's see what loveable characters dropped by today:
Today's guest...
Myrtle
From Maggie Shayne's new BROWN & DE LUCA NOVELS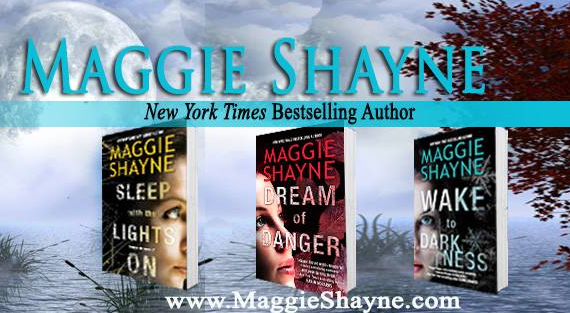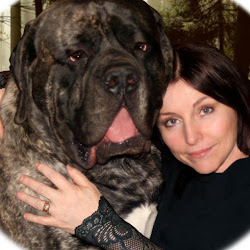 Hello Literal Addicts! LITERAL ADDICTION is beyond thrilled to welcome one of our favorite V.I.P authors back to the site today to promote and celebrate her incredible brand new novel and series.
Maggie Shayne is best known as the New York Times bestselling author of more than 50 novels, nearly 30 novellas, a former soap writer, (The Guiding Light, As the World Turns) a former advice columnist (Shayne on You,) and RITA Award winner.
Maggie currently has a number of major book series in her library of literary excellence: WINGS IN THE NIGHT/CHILDREN OF TWILIGHT, MORDECAI YOUNG, IMMORTAL WITCHES, FAIRIES OF RUSH, THE TeXas BRAND/OKLAHOMA ALL-GIRL BRANDS, SECRETS OF SHADOW FALLS and most recently, the PORTAL series.
You can keep up with Maggie online at her Website, on Facebook, on Twitter, and on GoodReads.
While I HIGHLY suggest checking out Maggie's entire backlist, I'm here today to spread the word about her new Thriller, Sleep With the Lights On, and the rest of what will become THE BROWN AND DE LUCA NOVELS.
For those of you not yet familiar with the book or series, here's everything you need to know…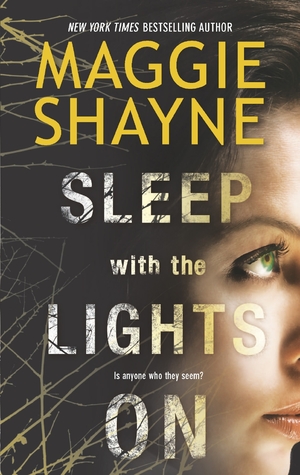 Sleep With the Lights On
THE BROWN AND DE LUCA NOVELS #1
JUST RELEASED TODAY, 9/24/13!
Add to your GoodReads Shelf
Buy from Amazon US | Amazon UK (Coming 10/1)| Amazon Ca | B&N | BAM | Kobo | iBooks
Through the eyes of a killer
Rachel de Luca has found incredible success writing self-help books. But her own blindness and the fact that her troubled brother has gone missing have convinced her that positive thinking is nothing but bull.
Her cynicism wavers when a cornea transplant restores her sight. The new eyes seem to give her new life, until they prove too good to be true and she starts seeing terrifying visions of brutal murders she soon learns are all too real.
Detective Mason Brown's own brother recently died, leaving behind a horrific secret. In atonement, Mason donated his brother's organs, though he's kept the fact quiet. Now he wants to help Rachel find her brother, but when he discovers the shocking connection between her visions and his own brother, he suddenly has to do everything in his power to save her from a predator who is somehow still hunting from beyond the grave.
Our Review, by LITERAL ADDICTION's Pack Alpha - Michelle L. Olson:
*eARC Received from NetGalley in exchange for an honest review
Maggie Shayne's Sleep With the Lights On was a darkly seductive psychological thriller with a heroine you cannot help but love, a hero that immediate grows on you and who you both feel for and root for, a story that sucks you in immediately and allows you to be utterly immersed in the unfolding arc of the tale, a unique villain that inspires roiling in the gut, and an ending with a surprise worthy of the best murder mysteries.
O.K, now that I enticed you with that lovely run-on sentence, let me try to break it down. :)
Rachel DeLuca is, by far, one of the best heroines I've encountered! She's so very 'real'; one of those no holds barred ladies who says what's on her mind no matter what. A beautiful,intelligent, independent, strong, and sassy alpha-female who isn't afraid to just 'be'. And if that wasn't enough, Maggie, as Rachel in her POV, will have you laughing out loud in the first handful of pages.
Mason is a stubborn cop, a loyal family man, and a slightly damaged soul. The things Maggie puts him through in only the first 1/4 of the book are enough to break anyone, but he rebounds with grace and ends up being one of those subtle alpha males who you just want to give a big hug to.
The brilliant and unique premise - latent evil being transferred to multiple hosts via the receipt of an organ donation - is one that begs for attention! You can't help but be sucked in by it and set your mind racing with the 'what ifs' and 'what's nexts'. It's an epidemically spread case of evil, but through a means of infection that is utterly benign, thus making it even more disturbing. And the fact that one organ donor can affect up to 50 people makes this book, and ultimate series, one that has limitless potential.
I adored this book. I have been a Maggie Shayne fan for longer than I can remember, but this new side of Maggie is absolutely ingenious and made me have even more respect for her astounding talent and ability to capture the hearts and minds of her readers. I cannot wait for more DeLuca and Brown!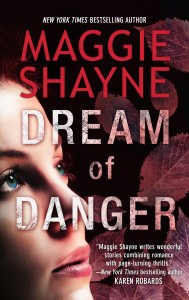 Dream of Danger
THE BROWN AND DE LUCA NOVELS #1.5
COMING Mid-October as an eSpecial
Add to your GoodReads Shelf
Synopsis to come…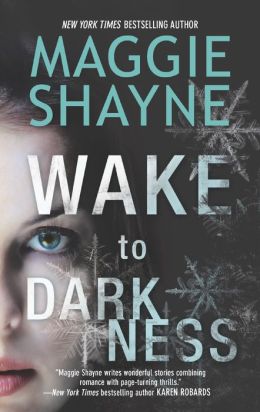 Wake to Darkness
THE BROWN AND DE LUCA NOVELS #2
COMING 11/26/13!
Add to your GoodReads Shelf
Pre-Order now from Amazon US | Amazon UK | Amazon Ca | B&N | BAM
Stranded with a murderer...
Rachel de Luca's uncanny sense of perception is the key to her success as a self-help celebrity. Even before she regained her sight, she had a gift for seeing people's most carefully hidden secrets. But the secret she shares with Detective Mason Brown is one she has promised to keep. As for Mason, he sees Rachel more clearly than she'd like to admit...
After a single night of adrenaline-fueled passion, they have agreed to keep their distance—until a string of murders brings them together again. Mason thinks that he can protect everyone he loves, including Rachel, by taking them to a winter hideaway, but danger follows them up the mountain.
As guests disappear from the snowbound resort, the race to find the murderer intensifies. Rachel knows she's a target. Will acknowledging her feelings for Mason destroy her...or save them both and stop a killer?
They sound fantastic don't they!!? Sleep With the Lights On was an incredible thrill ride and we cannot wait for Dream of Danger and Wake to Darkness! Get them into your TBR lists and scoped out from your favorite booksellers now. For the rest of today though, we have an Exclusive Excerpt from Sleep With the Lights on (only seen elsewhere if you buy and read the book. Check it out:
EXCLUSIVE SLEEP WITH THE LIGHTS ON EXCERPT:
I'd been rehearsing my questions in my head and writing notes in longhand, because my handwriting needed a lot of practice. I would phrase my questions carefully, not to give too much away. I didn't want the guy thinking his brother's eyes had gone to a psycho, right? And besides, he might talk after our meeting. To the press. And I didn't need that sort of headline. Not when BW was even now setting up future interviews in the wake of the big announcement. Her original plan to save the news for the right time went out the window when I told her I wanted my driver's license and would not wait to get it. The minute someone caught wind of that, it would be obvious I could see again. So we did a press release: The woman who writes about how to create your own miracles has a miracle of her own. You couldn't buy publicity that good, and we asked for the public's patience while I adjusted to sighted life. Fortunately Wish Yourself Rich was already in the can, just waiting for its holiday release date.
Our spin was that my consistently positive attitude and steadfast belief that my eyesight would one day be restored, my lack of doubt and my refusal to let my blindness become my focus, had inevitably created the miracle I had now experienced.
Because that was the spin that would sell books.
It wasn't the truth, of course. The truth was, I got lucky.
I got unlucky when I went blind. I got lucky when my sight was restored. Because shit happens. Good shit and bad shit. It's random, and there's nothing you can do about it. Period.
But people don't like feeling helpless and powerless against fate. So you sell them a reason to believe they're not, and you "manifest" yourself a career and a pile of money. Voila! Magic.
The meeting with the donor's brother was set for the benches near the observation tower on my end of the dam. Myrtle and I could walk that far, and I loved walking even if Myrt did not. Even after six weeks, give or take, I couldn't get enough of looking out over the reservoir. Do you have any idea how many different ways simple water can look? Choppy and dark green, or white capped and rough, or still and blue. My favorite was when the water became a mirror, and I could see the pines and vivid fall foliage reflected perfectly in it. I loved that.
Myrtle and I walked slowly along my dirt road, all the way to the paved part near the village, and then we veered onto the walking path that encircled the reservoir. It was barely October, and the leaves had turned themselves up to full power. Had the colors been this vivid in the fall when I was a kid? I grew up in New York's nether regions, the little-known places with more cows than humans, so I'd seen the trees put on their annual version of Fashion Week, but it was hard to remember. And now the colors were more vivid than anything I could recall. Like neon. Or black light posters with the black lights turned on. Those I remembered.
Myrtle was resenting the shit out of the enforced walk, but I kept telling her it was good for her. Yes, she was old and blind, but she was also fat. We'd been doing a slow, easy lap around the property every evening, though she hated it. If she could have talked, she would have cussed all the way.
This was a little bit farther. And man, was she pissed.
Near the tall rectangular tower on my end of the dam, I saw my donor's brother right where we had agreed, using the hospital as intermediary, to meet. We hadn't spoken yet, even by phone. He was sitting on a wooden park bench, staring out at the reservoir most people mistook for a lake. It was huge, almost six miles long and more than a mile wide.
The guy's back was toward me, so I got to look him over without him noticing. Short dark hair, nice and thick. A broad back, really wide shoulders underneath a blue windbreaker. I closed my eyes and tried to get a mental image, but my senses were on strike, and I realized it was because I was nervous. Me. Nervous. Go figure.
I walked up behind him, and Myrtle sat down the minute I stopped walking and glanced up at me. The message in her expression was Try to move me right now and I swear to God I'll bite your arm off. And by the way, I could use a snack.
I dipped into my pocket for a Snausage and gave it to her, then refocused on the guy while she smacked, slurped, licked her lips and belched her gratitude. Hearing the dog, he turned, and my mouth went dry, because he was drop-dead gorgeous. I'm talking better than Hugh Jackman handsome. And that's saying something, right?
Maybe I'd better say something before he thinks I'm in need of a voice box transplant next.
"I saw an eagle out there one day," I said. "In fact, it was the day I got home, the first day I ever saw anything here."
He smiled a little, but it didn't reach his eyes. It was one of those smiles that seemed like the right expression but wasn't anything close to real. Then he got to his feet, moved closer, extended a hand. "Good to see you, Rachel."
I took his hand and made my shake firm, because men respected that, and then was instantly flooded with a sense of familiarity as his big hand completely enclosed mine. Warm. Nice. I looked at the little hairs at his wrist, wondered if he was hairy all over. Then my nose twitched. His scent was familiar. Not just the aftershave but the way it smelled on him. And his voice was still echoing in my brain like a skipping record.
"Wait a minute," I said, yanking my hand free. "I've met you before, haven't I?" It wasn't really a question.
"Yeah, you have. I was—"
I help up my hand, palm flat. "Don't tell me." He shut up, and I closed my eyes, because by now I knew that my other senses pretty much refused to stay on full alert when my eyes were open. There was just too much to see, and I was entirely too enamored with seeing it. But when I closed my eyes, my other soldiers came to attention. I stopped looking at the guy and starting feeling him.
He was crouching down by then, petting Myrtle, his big hands moving over her as she wriggled without standing up. That dog was as lazy as I was sarcastic.
"You're just a raving beauty, aren't you? Yes, you are."
He wasn't being sarcastic, though Myrtle had a face only a bulldog lover could love. His voice was like velvet rubbing over gravel. His presence—whatever unique electro-magnetic energy his body gave off—some call it an aura, but that term is just so freaking new-age-fluffy-bunny that I refuse to use it, but still, whatever you want to call it, it was just so familiar to me. And then it all clicked into place in one big flash…
Get your copy of Sleep With the Lights on today to find out how Rachel knows Mason and everything wonderful that happens before and after! :)
Now, Literal Addicts, the part I KNOW you've all been really waiting for. :)
INTERVIEW BETWEEN DALI AND MYRTLE: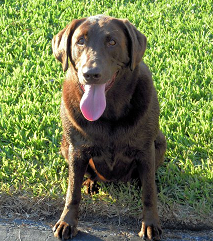 Hey everybody! I'm Dali. If you ask the American Kennel Club it's "Dali's Picture Perfect", but that just sounds stupid. Yeah, I was named after the artist Salvador Dali and my momma likes word play, but it's just Dali. Or if you're my daddy, and mad, it becomes the very Spanish pronunciation. My daddy's silly. He's SO not Hispanic.
You all might know my momma, LITERAL ADDICTION's Pack Alpha, Chelle. Which is kinda silly too, I mean "Alpha"? Really!? I'm WAY more alpha than she is!
I'm actually here today to do an interview with Myrtle from Maggie Shayne's Sleep With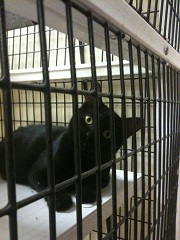 the Lights On. Oh and Maggie, please tell Dozer, Daisy and Niblet I
'
m very sorry I haven
'
t gotten them any coconuts yet. Every time momma and I try to send them they end up leaking before we can, and I don
'
t want my momma put in the slammer for mailing suspicious substances (little brother Poe agrees, he knows what it
'
s like to be in a cage and says it
'
s absolutely no fun!). We're working on a solution.
So anyway, let's get to this interview. I have a bunch of questions for Myrtle, and want to know some things about her human and her human's mate too….
~*~*~*~*~
[The parentals had set up a meeting in a nice dog park somewhere halfway between our home and theirs. The place was nice. Too many small yippy dogs, a.k.a "snacks" for my liking (just kidding about the whole "snacks" thing. Sorta. *chuff*), but it was a beautiful day and the grass was soft, sweet and warm. I trotted up to where I saw Myrtle settled and put down the little Portal series tote bag I was carrying in my mouth. Settling down next to her I prepared to get down to business.]
Dali: Hi Myrtle! Thank you so much for barking with me today. I mentioned above how I got my name. Do you know how you got yours? Myrtle was actually my momma's grandma's name.
Myrtle: My first mom named me Myrtle when I was a puppy. She was a nice lady and we were together for my whole life. I loved her a lot, but she died, and then no one wanted me. They kept saying words like "old" and "blind" - like they were bad things!
Dali: I want you to know that I absolutely don't think it's weird that you can't see. I mean, we both know sniffing things is WAY better anyway! Speaking of, your sniffer has to be super-charged doing even more work than usual. That's gotta be intense, huh!?
Myrtle: Humans take these things way too seriously. I can smell. I can taste. I can hear way better than they can. So I don't see. So what?
Dali: Are you enjoying life with your new mama, Rachel? What's she like?
Myrtle: Oh, she is SO fun! I knew from the day I met her that she was putty in my paws. Everyone else thinks she's kind of hard and scary. I see better than they do, eyes or not.
Dali: What do you think about her mate, Mason? Are they mates?
Myrtle: They are SO mates. The only ones who don't know it is the two of them. Humans! But the very best thing about Mason is that he has a boy. Well two boys, but the older one is no fun. Joshua is my best pal. I am making Joshua MY boy, I promise you that much!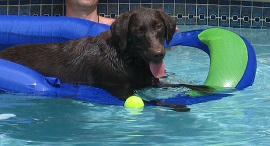 Dali: One old girl to another… do you just want to turn around and bite your mama Rachel's heels when she takes you on those long walks? I can barely make it around the block anymore! My momma just let's me go swimming for exercise most of the time, but daddy still drags me out on the leash. I love the pool! Do you like the water? [glances longingly at the man made lake just off to the right]
Myrtle: I like the lake near our house, but I only go in a little over my paws. Bulldogs don't swim so well, you know. We're top heavy. And yes, I want to bite her over those long walks. It's all the vet's fault. He says I'm overweight. Hello? I'm a dog, not a swimsuit model. Give me a cheeseburger and get out of the way.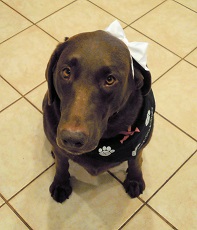 Dali: [chuffing at Myrtle's model comment and pawing out to give Myrtle a low 5] O.K, straight up. What's with the goggles and scarf? I gotta admit, you do look pretty chic, but I can't stand anything on me! A few years back my momma tried to dress me up as Snow White to her Cinderella for Halloween, and then a couple of years ago she tried to make me all 'cute' on my birthday. I swear I will never forgive her for it.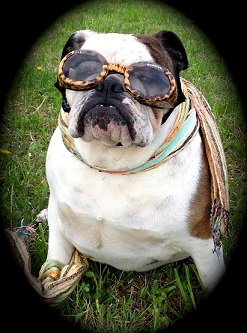 Myrtle: Oh, you know, I didn't like them so much at first, but they made Rachel so happy that I decided it wasn't so bad. And when we ride in the car with the top down, my eyes are much more comfortable behind the goggles. And when other people see me in them, I get all sorts of compliments and pets and strokes and even treats sometimes. Seriously, Dali, let your mom dress you up and other humans will fall at your feet.
[Dali paws at the scarf until she can get it up over her head and part way around her neck. She strikes a pose, and when Myrtle puts her head down on her paws and rolls her eyes she shakes it off and continues]
Dali: Confession time. How many times do you pretend to be sleeping when you're really spying on everything your mama Rachel and Mason do and say? I personally do it all the time, but don't tell my momma or daddy that! [Gives an Elvis lip curl smile] What's the juiciest thing you've discovered so far?
Myrtle: Frankly, Dali, most of the time I really am sleeping. Sometimes I fall asleep before my head is all the way down. But I'll tell you what I have picked up on. Those two are scared of each other. Isn't that crazy?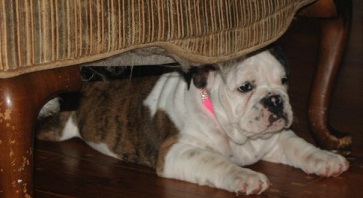 [Dali rolls over on to her side in an exasperated move to show that she does, indeed, think it's crazy, and then rolls back over to continue with the questions.]
Dali: Does your mama Rachel read aloud to you when she's working? What's your opinion? Is she a good author?
Myrtle: She's so funny! She writes about how life is supposed to be good and how worrying doesn't help anything, and then she worries herself silly. Yeah, she tries her lines out on me sometimes. I love it when she talks to me as if she can understand me when I answer. Sometimes, it's almost like she can.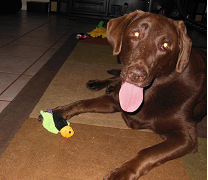 Dali: [nodding] I have toyboxes overflowing with toys, but definitely have my favorites – my froggy, my monkey, my peanut, anything I can take in the pool with me... I know your mama's assistant bought you a couple when she took you home, but do you have a favorite? Why?
Myrtle: My favorite toys are Rachel's pens. If she leaves them where I can get my paws on them, they are the most excellent chewy things ever! I have a whole basket full of toys that I love, but the pens are more fun cause she gets so mad when she finds the chewed up bits I leave for her. Or pretends to anyway.
Dali: [barking in agreement at the pick of excellent chew toy] My bo-bo Poe is always taking momma's pens! She calls him a "pen klepto", whatever that means. If I find one lying around I'll purposely hide it more hoping to get him in trouble, but it never seems to work. She has too many pens from all of those author peoples that she helps. O.K, serious question: McDonald's Chicken McNuggets, or plain Cheeseburger as favored naughty snack? I actually prefer the Cheesburger myself, but momma won't just give it to me. She cuts it into these teeny tiny little pieces and feeds them to me over the course of her meal. I mean, have you seen me? I'm 90lbs! Those little bites are just crazy.
Myrtle: I know, right? I'm 72 lbs but Dr. Party-Pooper says I should weigh 60. I like the ramburgers best. That's what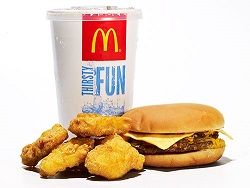 mom calls them. Ramburgers. She breaks them up, but only into quarters. Or she used to. Nowadays she peels off the bun and just lets me have the meat part. Which is okay, I guess, but I miss those buns.
Dali: Mmm, buns. Momma calls Daddy a "carb junkie" because he loves bread so much. I get plenty begging from him. [smiles a doggy smile] So, momma woke me up a couple of days ago from a dream because she said I was twitching and "howling like a beagle". A beagle? Really!? I'm a Lab! I think she's full of it, but it WAS a crazy dream. What are some of your favorite dreams to have?
Myrtle: I discovered froggies when I had my paws in the lake the other day, and I've been dreaming about catching one ever since. I can listen for them and smell them real clearly, and I can almost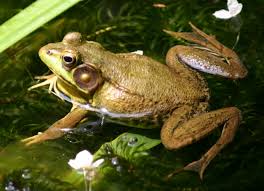 catch them, but not quite. Rachel laughs and laughs when I attempt this.
Dali: Ooh, I wonder if those froggies are different than toads? Momma screams at me to stay away from the toads in our yard. Those ugly warty things are almost half as big as my head, and I have a BIG head, but I can hear how upset momma gets when I get too close so I keep my distance. [glances off in the distance to see her momma and daddy walking back over] Oh Myrtle, this has been really fun! I think if we lived closer we could be great friends. I brought you something [scoots over to the tote bag and roots around inside. When she pulls her head back out she has a bright pink plush cell phone toy that rings and she drops it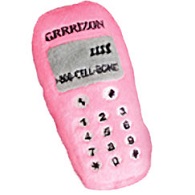 on Myrtle's feet]. Call me up; especially if you have some juicy gossip about your mama Rachel. [nudges and sniffs Myrtle's butt and gives a big lick on her head] Luv and Lix Myrts!
Myrtle: It was great for me too Dali. You'll have to come froggy hunting with me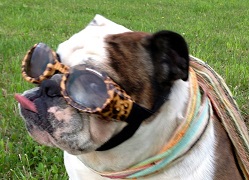 sometime soon! Maybe between the two of us we could catch one. I'll call you! [Picks up plush phone and trots away. Farts on the third step. Then giggles and keeps on going]
I hope that you all enjoyed that! :)
CONTEST:
In celebration of the release of Sleep With the Lights On, Maggie is offering up a mug with a photo of Myrtle in her sassy scarf and goggles and a quote from Rachel that says "Eat dessert first, in case you're going to choke to death on your broccoli." Rachel de Luca, SLEEP WITH THE LIGHTS ON www.maggieshayne.com", along with a signed copy of the novel to a lucky US Resident winner.
To enter, find the Rafflecopter for Maggie's Event below (on our Sidekick Corner page) 9/24 – 9/28, follow the directions, take action, and mark as 'Done'.
Good luck, and as always… HAPPY READING!