WARNING!
LITERAL ADDICTION is an Adult Only Organization (18 years of age+), and most interviews featured on our site contain material that is not suitable for minors. While we do occasionally sponsor and promote Young Adult literature, we maintain that we are an Adult organization, and as such, are not responsible for any influences that may arise as a result of anyone under the age of 18 ignoring our warnings and consuming other subsections of our website and the material therein....

LITERAL ADDICTION's AUTHOR'S CORNER

QUICK LINKS to the Archives of our last few Web Events:


Not what you were looking for?


Direct links to each of our Events' Tumblr Archives can be found under Upcoming & Past Author Appearances on the Home Page.


Each listing is a permalink to the transcript of the post on our Tumblr blog. While nowhere near as pretty as our original posts here on the site, the content is there.


You can also access the auto-updated RSS Feed for the Tumblr Archives by going to our Archived Events page, or by clicking on the ARCHIVE button below.

~This is Rheid. Rheid is LITERAL ADDICTION's official mascot and proof that LITERAL ADDICTION is where book addicts and paranormal junkies unite!

TODAY'S OTHER FEATURE AUTHOR EVENT....

4/26/13

Spotlight, Cover Reveal & Giveaway

for...




Stacey Kennedy


and

CLAIMED
Hello everyone! LITERAL ADDICTION is happy to be promoting for the fabulous Stacey Kennedy once again today (we love her as a repeat V.I.P!)
Stacey Kennedy is an urban fantasy lover at heart, but she also enjoys losing herself in dark and sensual worlds. She lives in southwestern Ontario with her husband, who gave her a happily-ever-after. Together, they have two small children who can always make her smile, and who will never be allowed to read Mommy's books. If she's not plugging away at a new story, you'll find her camping, curling up with the latest flick, or obsessing over Sons of Anarchy and Game of Thrones.
CONNECT WITH STACEY:
Website - http://www.staceykennedy.com/
Facebook - http://www.facebook.com/AuthorStaceyKennedy
Facebook Fan Page - www.facebook.com/StaceyKennedyFanPage
Twitter - https://twitter.com/#!/Stacey_Kennedy
Goodreads - http://www.goodreads.com/author/show/3473046.Stacey_Kennedy
We're here today to help Stacey unveil the absolutely delightful cover for her upcoming book Claimed, Book #1 of her CLUB SIN series. Check it out...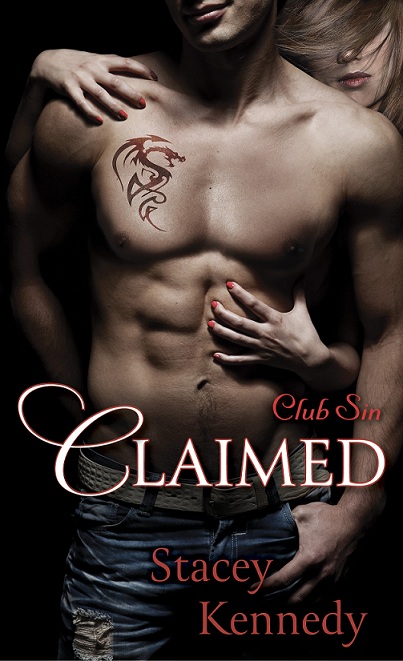 "Claimed"
CLUB SIN Book #1
(Random House Publishing Group)
ISBN: 9780345548306
Release date: August 5, 2013
Add it to your GoodReads Shelf!
A novel of erotic discovery and forbidden desire that goes beyond Fifty Shades of Grey.

Presley Flynn is ripe to experience her secret fantasies . . . and Dmitri Pratt wants nothing more than to fulfill them. Once inside the elite Club Sin in Las Vegas, Presley is nervous but excited—and determined to surrender to her every desire. Dmitri is her Master, and his touch is like fire. With each careful, calculated caress, he unleashes her wildest inhibitions, giving her unimagined pleasure.

Presley is different than the other submissives Dmitri has mastered. The BDSM lifestyle is new to her, and so are the games they play at Club Sin. From the start, Presley stirs emotions in Dmitri far beyond the raw purity between a dom and the perfect sub. For the ecstasy they share goes beyond the dungeon, igniting a passion that claims the very depths of the heart.

Claimed is an erotic romance intended for mature audiences.
Contest:
Stacey is offering up winner's choice of eBook from her backlist.
To enter, find the Rafflecopter widget for today's Event on our Author's Corner II page, follow the directions, take action, and mark as 'Done'.
Good Luck!
AUTHOR EVENT CONTEST!!!!!

Use the Rafflecopter widgets displayed to enter for the current and previous Event contests (Archived posts can be found by using the links above).
CURRENT Author EVENT

Stacey Kennedy_4.26.13